Detail Center
DETAIL HOURS ARE FROM 8AM TILL 5PM - MONDAY THROUGH FRIDAY OR BY APPOINTMENT ONLY

The employees at Budget Detail Center are experts when it comes to restoring cars to the glory of their showroom days. Staff members draw from years of experience as they gently detail the interiors, exteriors, and other special compartments of your vehicle. Staff members bathe cars by hand and cleanse engines, and apply a clay product that lifts environmental debris. After removing grime from oxidation and overspray, they wax frames by hand, dress exteriors, and wash windows from both sides. Inside, conditioners care for vinyl and leather and steam removes contaminants from carpet. Special attention is always taken when detailing your dash and other special compartments. An additional fee may be charged for larger vehicles.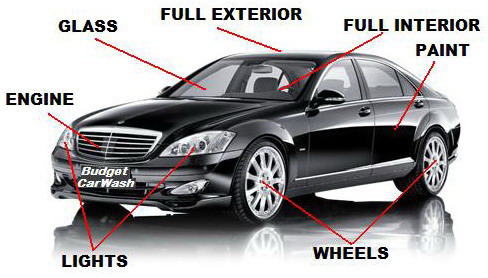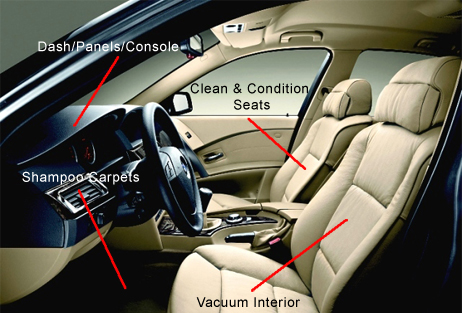 Full Service Detail Packages: Gift Certificates Available for all Packages listed below:
(Large SUV's and Trucks may be extra)
Platinum Package (4 to 6 hours)
Gold Package plus: Go Around Paint Touch-up on Minor Rock Chips and Scratches
Gold Package (3 to 5 hours)
Silver Package plus: Steam clean Door Jams, Vents, Buff and Wax Exterior.
Silver Package (2 to 4 hours)
Wash Exterior and Clean Windows. Clean and Detail Dash, Door Panels, Center Console, Shampoo Carpets and Floor Mats.
Clean and detail dash, door panels, all around interior, center console, shampoo carpets, seats, floor mats, and clean interior windows.
Hand wash exterior, dry off, apply wax by hand.
Degrease engine component & hood jam with steam cleaning
Shampoo carpets, seats, floor mats, headliner (upon request)
Remove any spills, spots from interior.
Hand Wash vehicle, buff and wax exterior, dress tires.
Power wash floor mats only.
Exterior Power Wash by hand
Power wash tires and fender wells, hand wash exterior with spot free rinse.
Additional charge of $5 to $25 for materials may be added
Tire Dressing is an additional $5.00 charge for those packages that don't include it.